Volkswagen ID.4 77kWh GTX AWD 220kW
Volkswagen ID.4 77kWh GTX AWD 220kW
De full size SUV van Volkswagen met een actieradius tot 510 km (WLTP). De VW ID.4 combineert de enorme ruimte en het comfort van een SUV met het duurzame karakter van een elektrische auto. De auto heeft de nieuwste veiligheidstechnieken aan boord en vernieuwend design die rust en elegantie uitstraalt. In de ID.4 ontbreekt het je aan niets.
Bijzonderheden:
Highlights
77 kWh Pro accu, 220kW / 300 PK
20″ lichtmetalen velgen
Style Interieur Pakket
Lane Assist
Adaptive Cruise Control
Standaard uitrusting:
2 in hoogte verstelbare hoofdsteunen op de voorstoelen, 3 in hoogte verstelbare hoofdsteunen op de achterstoelen
6 luidsprekers
Achterdeur opklapbare achterklep
Airconditioning met 1 zones Volledig automatisch
Centrale armsteun achterin
Centrale deurvergrendeling met elektrische ramen
Dakrelingen zwart
Elektrisch verstelbaar en verwarmde buitenspiegels in de kleur van de carrosserie voor bestuurder gedeeltelijk in kleur passagierskant en geïntegreerde knipperlichten
Lage bandenspanningsindicator
Navigatiesystemen met een aanraakscherm via intern geheugen/HD Kleur, 10,0, verkeersinformatie en 25,4
Parkeerinformatie voor en achter dmv radar
Stabiliteitscontrole
Stoelbekleding van stoffen hoofdmateriaal met stoffen bijkomend materiaal
Verwarmd multi-functie stuurwiel met Hoogte instelbaar en telescopische verstelling
Zij-airbag voor
3 asymmetrische neerklapbare zitplaatsen achterin in de vorm van een bank naar voren kijkend met zonder elektrische verstellingen en een niet verwijderbaar opklapbaar kussen ski luik
ABS
Airbag voorin aan de bestuurderskant, uitschakelbare airbag voorin aan de passagierskant
Audio apparatuur met RDS en digitale radio Touch Screen, Kleuren Scherm en 0
Centrale armsteun voorin
Cruise control met adaptieve cruise control stop & go functie
Elektrisch bediende ramen voorin en achterin met 2 sneltoetsen
Ellipsoïde koplampen met LED LED
Lichtmetalen voorwielen met een velgdiameter van 20 en een velgbreedte van 8,0 two-tone, 50,8 en 20,3, lichtmetalen achterwielen met een velgdiameter van 20 en een velgbreedte van 9,0 two-tone, 50,8 en 22,9
Oplaadstekker Type 2 (Mennekes), Inclusief laadkabel, charging socket AC 1 en achter zijkant, oplaadstekker Mode 2 (EVSE), oplaadstekker CCS (Combo), charging socket DC 1 en achter zijkant
Smart kaart / sleutel automatisch en inclusief start zonder sleutel
Standaard lak
Telefoonvoorbereiding houder, lader en antenne
Voor- en achterin gordijnairbags
Laadpunt
Wij informeren u graag over de best passende laadmogelijkheden voor uw elektrische auto. Door onze ervaring en samenwerking met vooraanstaande partners op dit gebied, verzorgen wij voor u de volledige laadinfrastructuur, zoals een laadpaal afgestemd op uw elektra inrichting, laadpassen en privé/zakelijk verrekening.
Compleet leasecontract
Bij In2leasing is operational lease een compleet contract, inclusief
√ Afschrijving & Rente
√ Verzekering & Reparatie
√ Onderhoud & Banden
√ Houderschapsbelasting
√ Vervangend vervoer
√ Pechhulp
Optioneel in leasecontract
√ Winterbanden
√ Brandstofpas
Er is altijd een alternatief!
Voldoet deze auto net niet aan uw wensen? Geen probleem. Deze actieauto's zijn slechts een klein deel van het gehele scala aan verschillende merken, modellen en uitvoeringen die wij aanbieden. Bel ons en wij maken het beste leasevoorstel voor uw auto.
Let op: alle getoonde tarieven zijn exclusief BTW, tenzij anders vermeld. Getoonde afbeeldingen kunnen meeruitvoeringen bevatten.
Array ( [post_type] => cars [post_status] => publish [posts_per_page] => 10 [orderby] => date [order] => ASC [tax_query] => Array ( [relation] => AND ) [meta_query] => Array ( [relation] => AND ) )
In2leasing bezoekadres
De Langkamp 1
3961 MR Wijk bij Duurstede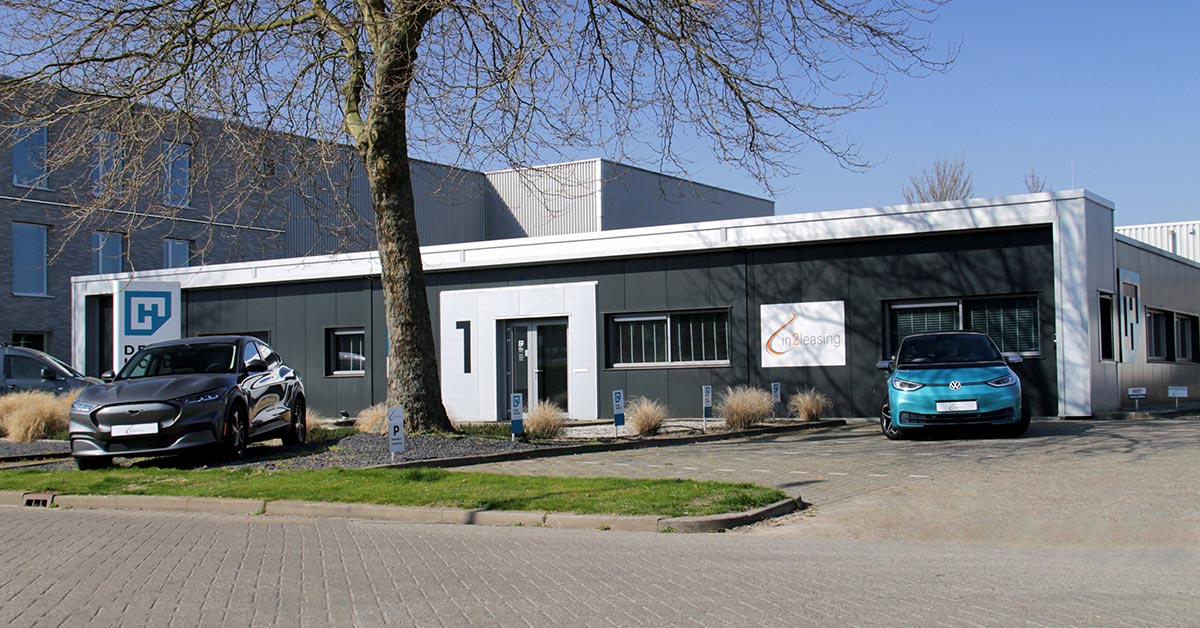 Heeft u vragen?
We kunnen ons voorstellen dat u vragen heeft. Over de verschillende leasevormen of adviezen, of misschien heeft u op onze website niet precies de lease-auto gevonden die u zocht? Schroom dan niet ons te bellen of te mailen. Onze contactinformatie vindt u hieronder.